Products » Blasting Equipment » Hoods and Respiratory » CO/Gas Monitors » RPB GX4 Gas Monitor » GX4 Gas Monitor, 120V AC
GX4 Gas Monitor, 120V AC
Manufacturer: RPB
CPN: RPB08400-01
MPN: 08-400-01
Price: $1,940.16
Resources
Description
Includes 10 ppm CO sensor.
The Ultimate Gas Detection Monitor
As you know, compressed breathing air can create a deadly environment. Do you have an intelligent gas monitor which can give you complete confidence in the air you and your employees are breathing? The RPB GX4® is your solution. With the ability to detect up to 4 gases and with traceability the GX4® gives you perfect peace of mind.
Gases like Carbon Monoxide are invisible to all the human senses, yet are commonly found in industrial premises' worldwide. While low level carbon monoxide exposure may not be immediately fatal to employee's, ongoing contact with the gas at low levels has a cumulative effect, causing serious illness and health concerns for employee's long term. With symptoms often confused with the flu, headaches or tiredness, it's a serious problem which is often too easily ignored.
Feature Video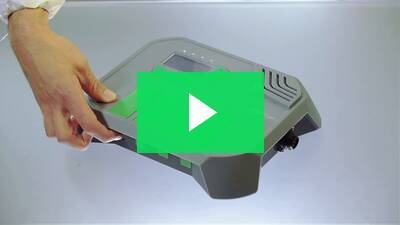 Applications Include
Spray painting, coating and confined space applications
Pharmaceutical manufacturing
Chemical, pesticide and materials handling
Chemical stripping
Waste management
And many more!
Product Features
Illuminated information display for viewing real time data
103 decibel alarm. This can also be used in conjunction with auxiliary warning devices such as strobe lights
Monitor up to four gases simultaneously
Strong purpose built case, manufactured from Reinforced Polypropylene it is designed for the harshest of conditions
Cartridges can be easily removed by pushing the cartridge release button and clipped back in
Push to release air inlet
Robust power inlet
Sturdy mounting bracket for attaching the GX4 to walls or a Radex Filter
Universal power options for running the GX4 or charging it's internal battery
If you are working remotely to the GX4 Gas Monitor you can connect a strobe light or strobe light and alarm
Complete quick and easy calibration checks with no set points required
A range of pre-calibrated gas sensors are available including CO, O2 and CO2 and all have a 2 year shelf life.
Connect from your laptop, tablet, phone or a network to view real time data, download logs and much more
Optional robust carry case